Have you ever dreamed of a couple of days in the Spanish countryside? Perhaps spending leisurely afternoons looking over the vast and mixed terrain, sometimes flat and splendid in its simplicity and also ecologically complex...
Castilla-la Mancha
is at once transfixed with historical depth, irony and beauty: a land of mystical castles, barren yet fertile plateaus complete with legends of simple, but iconic men like
Cervantes' Don Quixote
.

That's me outside of Cervantes' home in Alcalá de Henares (just outside Castilla - la Mancha)
with Don Quixote himself.

He was friendly. Thankfully Dulcinea doesn't mind.
While there are many regions I fancy throughout Spain,
Castilla-la Mancha
speaks to me in a way that I can't describe as ornately as I would like. To me it is a beautiful cross between the rustic Tuscan landscape, the raw beauty of the plateau's of Colorado, and the lavender fields of Provence. Only here the "lavender" is more precious than gold...
Castilla-la Mancha
has a unique Spanish sensibility that keeps my mind lingering in its crevices long after my journey home. Let me share with you why this land whispers for me to come its way every year.
First lets get situated. As you can see in the two maps below the area of
Castilla-la Mancha
is BIG!
Good overview of the area.
Broader look at the region. This one shows more of the rivers in the area.
While the northern & western area is close to Madrid, Spain's majestic capital, (Guadalajara and Toledo are about 45 minutes/1 hour away from the city center by car) you are also close to the center of Valencia and Barcelona (about two-three hours from Guadalajara). Cuenca, which is north of Albacete is only 30 minutes on the new speed train from BOTH Madrid and Valencia and a great launching point to the north and southeast area of
Castilla-la Mancha
.
Hurray for public transportation! The new AVE train from Madrid to Valencia.
We were one of the first to try it out last year.
What you find in between this central landscape is truly an ecological wonderland and while some say that the gastronomic haven of Spain is in the Basque country, Galicia, Barcelona and Madrid- I would argue that the heart and soul of the Spanish kitchen is in this hidden paradise. In most of this region you will find good old fashion basics of yummy country cooking. This is all about eco-gastronomy at its best and quite frankly at its most economical state - because so few tourists really take the time to explore this region outside of maybe Toledo and Cuenca....
One of my favorite views of Toledo from a nearby Parador. I could do a whole post just on Toledo... I may soon.
The cliff side of the old town of Cuenca. Even on a rainy December day its beauty still shines through!
So would you even believe that in this region of historical cities like Toledo and Cuenca a landscape like this could also exists?

This was my winter view in the province of Guadalajara.
In the summer most of these fields are sunflowers...
 
Eat your heart out Tuscany! These are the sunflower fields in Castilla-la Mancha. Truly like no other!
Photo by Roberto Ruiz found HERE.
This region is one of the most sparsely inhabited areas of Spain which means it is mostly unspoiled, mainly tranquil and the air you breathe around these parts is like a gulp of purity.
As if the landscapes above weren't enough to get your bags packed,
Castilla-la Mancha
has some of Spain's most spectacular natural rivers and gorges in its national park, the Alto Tajo.
Towards the bridge of San Pedro in the Alto Tajo. Picture found HERE.

One of the many rivers of the Alto Tajo park system.

 
This was also taken by the American foreign exchange student. Her blog can be found HERE.

If you are into mountain biking, fishing, hiking, and hunting- this area is untapped! My dear friend has a wonderful place just outside of the Alto Tajo hills which in the future may be rented. Can you imagine having the natural beauty of the Alto Tajo at your front door and this be your accommodations....
What an entrance! You can almost see a glimpse of the beautiful view in the window's reflection. The sunsets here are AMAZING!
Where the rustic charms of the countryside meets modern comfort.

You could enjoy a private suite with gorgeous claw foot tub and shower. This is only 1 of 3 suites!
Can we say bubble bath? Yes, please! And you haven't even seen the view!
 
Wouldn't you love getting the fire going while you sip some delicious local wine and munch on local manchego cheese?


This could be your own private path to the local ruins and beautiful church at the top of the hill.
I would love to host private customized tours through this beautiful land! After all, not only would the accommodations be amazing but lets be honest the scenery in these parts is legendary. Does this look familiar?
The famous windmills of Castilla-la Mancha. Foto found HERE.
Believe or not this landscape leads to the most coveted spice in the world, saffron (sometimes more expensive then gold!), as well as olive oil, onions and some tough grapes!
The dusty acres of barren lands are literally converted into a sea of purple during the fall harvest season.
The last weekend in October, the town of Consuegra even holds the "Saffron Rose Festival", in honor of the flower that "is born at sunrise and dies at dusk" as sung in the Spanish zarzuela (operetta) of the same name. Photo found HERE.



And the wine region of Castilla-la Mancha offers a feast on the eyes every season of the year!

Poppy fields and vineyards - what a beautiful combination! Photo found HERE.

Formally known as the epicenter of cheap wine there are now some incredible wines of La Mancha (and Valencia) that are really starting to take off globally. This whole area with its sandy clay soil and limestone is hearty to say the least! Why aren't more wine lovers coming here??
Lets also not forget that this land is also home to one of my favorite cheeses, Manchego!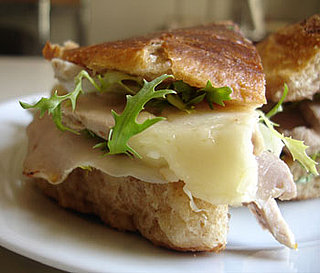 A pork loin sandwich with figs and manchego- YUMMY! Recipe and photo found HERE
For me, this is the real Spanish heartland. My favorite countryside at its best. The history alone that has been scripted in this land is more than I can do justice to but one day I would like to share it with you.
What do you think?
Would you like to join me in my Castilla-la Mancha adventure?
When can we go?
My bags are packed for any season you like - I promise it will be an incredible experience.
Who's with me?