Today my brother-in-law and I took a six mile walk through the Hahn Wood's trail near Emory University leading up to Candler Lake.
Peachtree Creek was our guide through the tidy walking trail and along the way we found beautiful blue birds, geese, and turtles lounging by the creek.
If you look closely you can see the 3 turtles on the tree branch over the creek.
We mainly walked in silence taking in the gentle lull of the creek and making sure we didn't take a fall on the muddy patches (big rain storm last night). However, both of us got a kick out of running across the suspension bridge and feeling it give beneath our feet.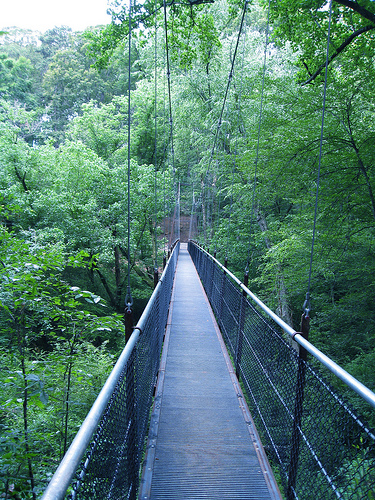 This picture is of the suspension bridge in the spring/summer.
Last year the Atlanta Outdoors Club also hosted a walk through the park.
Sometimes it's easy to forget that even in the chaos of the city you can find these stunning retreats to escape to. We promised to do it again and now have a list of "must do" walking trails throughout the city of Atlanta. These trails will help us get ready for our Yellowstone and Inca Trail trip this summer. I will keep you all posted on our progress... tomorrow we conquer
Stone Mountain
!
View of Stone Mountain Park. Picture found HERE.